Tree Planting at Uyugan, Batanes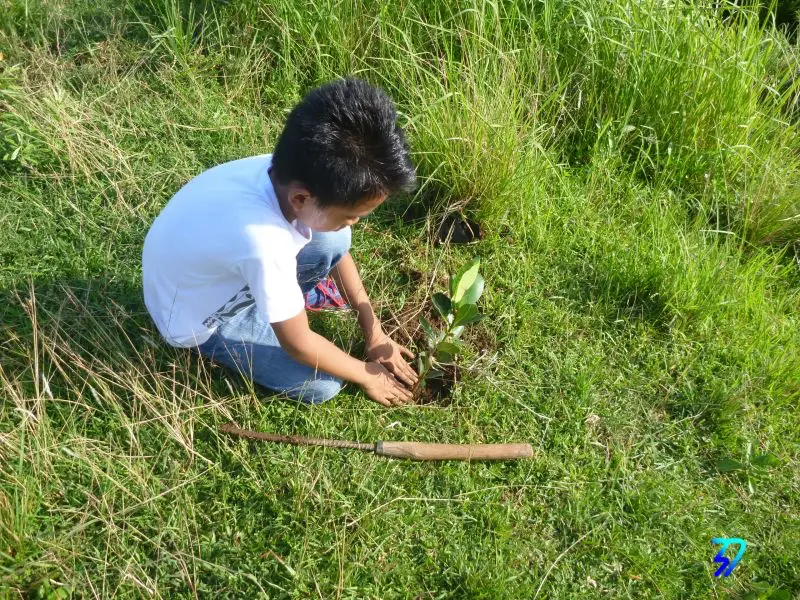 Growing up in Batanes, I learned to love the bounties of nature. Fruit-bearing trees surround our Lolo's house — a guava tree that regularly bears fruit, a mabolo tree, an orange tree, pomelo, tropical almonds and several coconut trees. These trees regularly provide snacks for all of us. There are no fast-food chains in Batanes, only natural fruit which we all enjoyed — climbing a tree to pick fruits is half the fun already, eating the fruits would be the highlight of our little quest for both fun and food.
Several years later, I had to go to Manila for college. In my second year in Manila, I experienced a waist-deep flood in Manila. The flood stopped work and school activities in most of Manila for a day. This was new to me then.
Batanes is a little place battered by much heavier rain and regular typhoons but prolonged flooding does not happen.
While here in Manila it only rained for a few hours and the flood water was waist-deep in most streets near us and floating filth — plastic, junk, waste of all kinds. This 'probinsyano' in me wondered if this is the kind of modern life in a big city?
A year later, I visited Antipolo with relatives and I noticed that the hills surrounding Metro Manila were mostly patches of open hills with few trees. When the rain comes, it will mostly flow to the populated areas along with the soil and dirt that they bring.
I recall my science teachers in elementary school explained to us that trees help prevent floods, I did not understand how trees could do that then. But having experienced flooding in Manila confirms what they taught us. The lack of trees surrounding Metro Manila is the cause of the flooding, add to that the heavily congested metropolis with a poor drainage system, and the indiscriminate throwing of garbage that will add to the clogging of drainage that is already inadequate.
Weather disturbances are part of natural occurrences on our planet but the impact of these weather disturbances are made worse by us humans.
The cost of industrialization and progress has gradually increased global temperature primarily due to the increase in greenhouse gases in the atmosphere — carbon dioxide, methane, fluorinated gases, and nitrous oxide. The increase in greenhouse gases makes our planet warmer resulting in increasingly stronger storms, more precipitation, and deeper floods. One of the strongest typhoons in the history of the world happened in the Philippines in 2013 — super typhoon Yolanda/Haiyan.
Global warming is real. It is no longer just climate change, it's now a climate emergency.
We can still reverse global warming but it needs collective action from all of us humans. Rich nations are responsible for much of the world's emissions that are causing global warming. The other contributors to global warming are big businesses who are greedy for profit at the expense of the planet, our common home. Big corporations and governments of the world, especially those with the highest emissions have a big responsibility to reduce their emissions.
But what can we do as ordinary citizens of the earth? We can make our voices be heard by sending messages to our government officials about our concerns. While there are several actions being initiated already, we ordinary earthlings should not just wait for them to take action because they are not within our control.
Is there something we can do as ordinary people? Yes, there are things we can do. In fact, there are thousands of things we can do within our control. These are divided into two major action groups — first is to reduce our dependence on the power that releases these greenhouse gases into the atmosphere. These could be reducing our dependence on coal and fossil fuels, instead, let's use renewable energy like solar. We can put solar panels to power our houses for example so that we reduce or eliminate our dependence on utility companies.
The second is to plant trees. Why? Because trees help absorb carbon dioxide from the atmosphere and less CO2 rebalances our ecosystem so that heat isn't trapped in our atmosphere.
Our little contribution to fight climate emergency – Tree Planting
In early September 2016, I talked with the teachers of Uyugan Elementary School if they could help me host a short talk for the students about the impact of global warming on our planet. My aim is to inspire them at a young age to be responsible for the future of our planet because they will be the ones to feel the impact of global warming more than us adults. Fortunately, the teachers of Uyugan Elementary School were very generous with their time, effort, and leadership to make it happen.
On September 5, 2016, I met with the teachers of UES — Mr. Wilfredo Batallones, Ms. Vangie Nanud, Ms. Shirley Hortiz, and Ms. Marissa de Los Santos. I'm very pleased that they enthusiastically supported the idea and they agreed to help facilitate the short talk. I also mentioned to the teachers that it would be a great chance to demonstrate to the kids how to plant trees after the seminar. They agreed. It turns out that the school already has an existing program of tree planting which is great to hear.
On September 8, 2016, I conducted a seminar about climate change for the students of UES. I prepared visual aids – still pictures and videos for the students and I can see the curiosities of the students while I was explaining things to them. It is my hope that this short reach out to the kids of my hometown kindled their sense of stewardship for our small town of Uyugan and beyond.
After we completed the seminar, as a token of appreciation for being there, we gave the students a few school supplies — notebooks, pens, pencils, and a dictionary. Why an English dictionary? It is not much but I wanted them to be ready to face their learning journey because most of the world's books are written in English. I remember encouraging the kids to learn at least one new word every day. I hope they did, and continue to learn new things. This way, I feel I'm planting ideas that hopefully they can use in their adult lives.
After the seminar, we all went to the nearby hill facing Uyugan town to plant some seedlings of some Palomaria tree (Vutalaw in Ivatan). We're grateful to Uyugan town Mayor Jong Nanud and his staff for the assistance in sourcing the seedlings.
It was a fulfilling day for me to see the students and their teachers plant those seedlings. They were chattering with their classmates and teachers while digging holes on the ground to plant the seedlings. We share stories while doing this.
My wife Marie, my sisters Zerla and Amy, my brothers-in-law Edwin and Jojo were there to help also. Ryan (my nephew) and Ginny (my niece) were there perhaps too young to understand what's going on but hopefully, the experience taught them something to remember — that all this is for the benefit of their generation.
My cousin, Dennis Valiente also showed up to help us plant trees, he was there also to voluntarily teach the kids how to properly plant them. It is with sadness that Dennis died unexpectedly this 2021 in an accident. Rest in peace now my uncle and cousin.
I initially asked the students to plant one seedling each that day. But they completely surprised me when they planted much more than that — some planted 3, most averaged 8, and one even planted 16 seedlings! I was expecting the group to plant about 30 seedlings but the group planted a total of 248 in less than an hour! That September 8, 2016, was a very fulfilling day.
A few days later, a category 5 super typhoon Meranti with peak winds at 315 Kph slammed through Batanes on September 14, 2016. This is one of the strongest typhoons that hit Batanes in memory. Damages were noted especially to houses made of weak material. I hope this typhoon reminds us that we are going to experience more of these strong typhoons if we do not curtail our CO2 emissions. We did our little share of planting trees a few days ago but at the back of my mind, I was worried that the seedlings planted might have been damaged by the typhoon. I didn't have time to check because we were busy cleaning up after the typhoon and I have to return to Manila in a few days.
In 2019, I returned to Batanes for a different purpose but one of my plans was to visit the site where we planted Palomaria trees. Before I arrived in Batanes, I sent a text message to Mr. Wilfredo Batallones to check how the trees were doing. He told me that there was a fire on the hill where we planted the seedlings and most likely none of the seedlings survived. I arrived in Batanes in March 2019 and I went to visit the site again. It confirmed my fears — I cannot see any growing Palomaria on the hill where our group planted them. It was very disappointing.
Should we give up? No. One setback will not prevent us from doing what is right for our home. We will try again, again, and again. We have to.
I will return to Batanes after this pandemic and plant some trees again, even if it's just me because even one tree can make a difference.
As the saying goes — "the best time to plant a tree was twenty years ago, the next best time is today." More importantly, I hope the lessons I shared with the students during the seminar in 2016 stayed with them for the rest of their lives — that they too are stewards of the planet and that they should contribute to preserving the environment — our only home in the universe, the Earth.
We are all passing through Earth, only we have different time periods. Our ancestors planted trees for us, that's the reason why we are enjoying it now. It's now our turn to do our share, for the future generation.
That's the reason I am passionate about trees.